3 Apple Things You Need to Know if You Live on Whidbey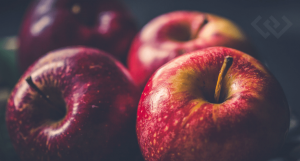 Fall has officially found its way back to our little island on the sound. The evidence of this is prevalent in the sounds of geese flying overhead, the return of long yellow busses escorting our children to and from school, and the ever-cooling weather that seems to drop one-degree cooler each day. This season marks the welcomed return of so many things including comfort and routine.
One returning theme of this season that we hold particularly dear to our hearts is apple season! Few things speak to the hearts of fall loving Washingtonians quite like the crisp red fruit that grows from so many branches here in the evergreen state. Whether it's apple pies, apple cider, or apple scented – something about the fruit just feels like home. Below are 3 things you should know about apples if you live on Whidbey Island:
---
#1 Has to do with Apple Pie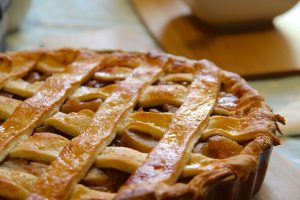 Probably the most obvious apple topic to be obsessed with is Apple Pie. Possibly one of the best baked goods to grace this earth, there is one pie on Whidbey Island that is simply a slice above the rest:
Whidbey Pie's Salted Caramel Apple Pie
Words cannot describe the beauty found in this Whidbey Pie creation. Simply one of the best apple pies on the island and worth a trip to their Greenbank Farm Café or if they have any in stock at the 3 Sisters Market in Coupeville.
---
#2 Changes at the Red Apple Market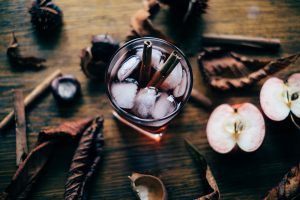 Residents of Coupeville and Clinton are well acquainted with the "Red Apple Market".  However, some Clinton residents may be surprised to learn there has been some changes to the ownership of their local store. In spring of this year Tom Brierley, or "Tom the Butcher" as he's commonly called, gained ownership of the store after the previous owners decided to sell. Although he's known for being a quieter, more behind-the-scenes man, Tom has big plans for improving the South Island grocery and we can't wait to see where he takes the shop!
---
#3 This Recipe!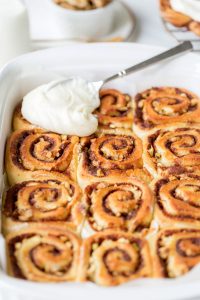 Few things in this world are as delicious as apples and cinnamon. If you've been to Whidbey Coffee recently and tried their Apple Walnut Cinnamon Roll, you know this well. We are so obsessed with this culinary masterpiece that we found a copycat recipe and it is simply THE BEST thing you could cook this fall. Let us know how it goes!
Apple Walnut Cinnamon Rolls
Buttery sweet cinnamon rolls full of apples and walnuts!
Course Breakfast
Cuisine American
Keyword apple walnut cinnamon rolls, cinnamon rolls
Servings 15 rolls
Calories 487 kcal
Ingredients
For the Cinnamon Rolls
2 1/4 tsp active dry yeast
1 cup milk warmed
1/2 cup granulated sugar
1/2 cup unsalted butter softened
2 large eggs
1 tsp salt
4 cups all-purpose flour
For the Filling
1/2 cup light brown sugar
1/2 cup dark brown sugar
2 tbsp cinnamon
1 tbsp apple pie spice
1/3 cup unsalted butter softened
1 cup apples diced
1 cup walnuts chopped
For the Cream Cheese Icing
6 tbsp unsalted butter softened
4 ounces cream cheese
1 1/2 cups powdered sugar
1/8 tsp salt
Instructions
Warm milk (105-110 degrees F.) and add packet of yeast. Add a pinch of sugar, stir to combine, and allow to sit for 5 minutes. Yeast should froth slightly.
Add sugar, butter, and eggs to bowl of electric mixer. Mix until combined. Add salt and flour. Combine. Pour in milk/yeast mixture and switch to dough hook of mixture. If not using mixer, hand knead. Mix (or hand knead) for 5-10 minutes. Dough will be sticky.
Place dough in an oiled or buttered bowl. Cover and place in a warm location (such as oven with light on). Allow to rise for 1 hour (or until doubled in size). Punch down and allow to rise for additional 15 minutes.
Roll out dough on a floured surface (to approximately 18″ x 12″). Combine butter with sugars and spices. Spread evenly across dough. Sprinkle with apples and walnuts.
Rolling from the long edge, carefully roll dough up tightly. Use a sharp knife to cut cinnamon rolls (about 1 1/2″ thick) and place in an oiled or buttered 9×13 dish. Cover and allow to rise again for 1 hour.
Preheat oven to 350 degrees F. and bake for 20 minutes. Don't over-bake.
In a mixer, cream together butter, cream cheese, powdered sugar, and salt until smooth. Pour over warm cinnamon rolls. Optional: garnish with diced walnuts.
You Might Also Like: