-Why we are better together at Windermere
Many people think of real estate as a cutthroat competitive sales business akin to the dynamics that are portrayed on a TV show like Million Dollar Listing. The world is always pitting competition vs. collaboration against each other as if these two things are completely exclusive from one another.
This is why it is so darn refreshing when you see collaboration amongst "competitors," and it's something we see at Windermere all the time.
One of Windermere's core values is that we are all better together, and we are huge believers in the very different way Windermere real estate agents operate. But what does "better together" really mean? How does this play out in the day-to-day?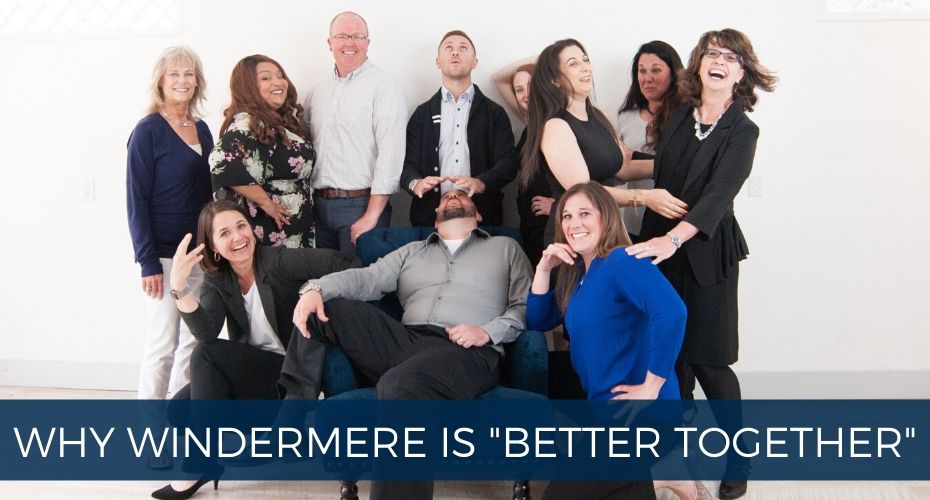 Of course, "better together" in part refers to the collaboration aspect in real estate. No one doubts two heads are better than one when it comes to problem-solving, and how about ten heads or a whole brokerage full of knowledgeable professionals to draw from? In our brokerage, a seasoned agent or a total newbie who comes up against something unusual (which happens more often than you would think) can easily pick the brains of agents representing 100's of years of experience. From in-person conversations to our Facebook group page; we encourage ideas, questions, new information, resources, and sometimes just funny memes. Real estate is about being creative, not taking no for an answer and problem solving like a maniac. Having a support group you can rely on results in miracles for your clients other agents can't produce.
"Better together" also means we have a lot of pride in the standard Windermere sets in the real estate industry. This translates to holding each other accountable when a colleague is delivering less than their best. For those of us who thoroughly understand the benefits of holding the real estate industry to a high standard, it literally hurts our hearts when we see agents acting in ways that are embarrassing for our profession and even worse, harmful to the client. This is why we believe in continually raising the bar on this industry so others have to stretch themselves just to keep up.
We take the idea of "better together" seriously but that doesn't mean we don't like to have fun doing it!
The video below was envisioned, orchestrated, and paid for by the agents. It is a pure collaboration amongst some of the most successful agents at Windermere in Oak Harbor who have intense respect for one another and understand that being better together helps everyone.
If you enjoyed this, you might also like: